GARY ZIMAK
Host of Following The Truth on BlogTalkRadio (M-F at 8PM Eastern)

Author of A Worrier's Guide To The Bible, Listen To Your Blessed Mother and From Fear To Faith (coming in August!)

Regular Guest on Catholic Answers Live, EWTN Radio's Son Rise Morning Show, Catholic Connection with Teresa Tomeo and Relevant Radio's Morning Air

Popular Catholic Speaker on Overcoming Anxiety, Worry and Stress

Blogger and Regular Contributor to Catholic Stand, Catholic Exchange & New Advent Websites
Contact Us TODAY to invite Gary to your parish Or conference!
Upcoming Appearances
Every Wednesday
Son Rise Morning Show
EWTN Radio
(6:35 AM Eastern) – "Let Not Your Heart Be Troubled"
April 18, 2014
Catholic Business Network of Greater Philadelphia Monthly Breakfast
Llanerch Country Club
Havertown, PA
(7:30 AM) Good Friday Mini-Retreat
April 26, 2014
Raising Kids Catholic Conference
Brookfield, WI
(8:30 AM – 3 PM) "Parenting Without The Worry"
April 29, 2014
Saint Rose Academy
Birmingham, AL
(6:30 PM) "Out Of Darkness Is Born The Light"
May 2, 2014
Our Lady Of The Valley Church
Birmingham, AL
(7 PM) "What If Mary Said 'No'?"
May 13, 2014
Catholic Professionals of Greater Philadelphia
Trevose, PA
(5:30 PM) Featured Speaker, Networking Event and Dinner
May 17, 2014
Malvern Retreat House
Malvern, PA
(1:30 PM) "Pray, Hope and Don't Worry"
May 24, 2014
C.H.A.P.L.E.T Homeschool Conference
Mater Ecclessiae Church
Berlin, NJ
(9 AM – 5 PM) "Be Not Afraid…To Homeschool!"
June 7, 2014
Emmaus Catholic Community
Mt. Ephraim, NJ
(9:00 AM – 3:00 PM) Men's Retreat
June 14, 2014
Malvern Retreat House
Malvern, PA
(1:30 PM) "Pray, Hope and Don't Worry"

Gary's Story:

In 2008, Gary Zimak was working as a project manager when he felt the call to form Following The Truth, an apostolate dedicated to teaching the truths of the Catholic Faith. Initially performing his work for the Lord on a part time basis, a job layoff in 2012 gave him the opportunity to make a bold move. After much prayer, Gary decided to "step out of the boat" and become a FULL TIME Catholic lay evangelist. He went from a guaranteed six figure income to no guarantee of any income!
Mr. Zimak is the author of "A Worrier's Guide To The Bible", "Listen To Your Blessed Mother" and "From Fear To Faith" (coming in August). He is a frequent speaker at parishes and conferences across the country, has an international radio following and is recognized as the leading Catholic speaker on the topic of overcoming anxiety. Gary hosts a daily radio show on BlogTalkRadio and is a regular guest on Catholic Answers Live, EWTN's The Son Rise Morning Show, Catholic Connection and numerous other programs. He is a member of Catholics United for the Faith, the Knights of Columbus and The Catholic Radio Association and resides in New Jersey with his wife Eileen and twin daughters, Mary and Elizabeth. Gary is an instructor for RCIA (Rite of Christian Initiation of Adults) at Sacred Heart Parish in Riverton, NJ and the chaplain for the Catholic Business Network of South Jersey.
Adhering to the principle of the "2 S's" (Simple and Substantial), Gary Zimak presents the authentic teaching of the Catholic Church in a way that can be understood by the ordinary "person in the pew"! Having been a Catholic who "went through the motions" for most of his life, Gary understands the importance of getting to know Jesus Christ and the teachings of His Church. He can assist you in achieving the peace that can only be found by having a personal relationship with the Lord!
Gary speaking about suffering on Holy Spirit Radio (Doylestown, PA) on 8/24/12.
Endorsements Of Gary's Work:

"Gary brings zeal and warmth to his presentation of the Catholic faith in its fullness and beauty.  His burden for sharing the Gospel is apparent in the way he tackles the most disputed questions about Catholicism with charity, intelligence, and charm.  I heartily recommend his resources to anyone seeking to learn more about the Catholic Church and its beliefs and practices."
- Matt Swaim, Producer of Son Rise Morning Show, EWTN Global Catholic Radio Network
"We invited Gary to speak to more than 130 women of St. Maria Goretti Catholic Church in Westfield, Indiana for the 18th Annual Ladies Candlelight Dinner sponsored by our Altar Rosary Society. We couldn't have been more pleased. He opened our eyes to using our Faith to deal with the anxiety we experience in our day to day lives. His use of scripture and humor was the perfect combination to reach the women of our Parish. We were blessed to have Gary attend our event and recommend him as a speaker for any parish event."
- Adena Vaughn and Laura DuVall,Co-Chairs, Ladies Candlelight Dinner – St. Maria Goretti Catholic Church, Westfield, IN
"Gary Zimak is an outstanding speaker. He speaks at the 'level of the people' without watering-down the teachings of Scriptures and the Church. Having served as a pastor of a parish struggling with a merger and closing of a school, my parishioners found his message refreshing and uplifting — reminding us of God's Divine Providence and presence in all the events of life. I have also known Gary personally for many years. He is a prayerful father and husband and a faithful witness of the Gospel. I highly recommend Gary to any pastor or church community wishing to hear the message of the Gospel and how it applies to the dealings of everyday life."
- Fr. Allain Caparas, Director of Catholic Identity – Gloucester Catholic High School, Gloucester City, NJ
"You are providing a much needed service and I admire your desire to want to spread the truths of our glorious Catholic faith."
- Johnnette S. Benkovic,  Founder and President of Living His Life Abundantly  International
"Thank you, Gary, for your presentation on the Blessed Mother at our men's group.  Your talk was scripturally based, theologically sound, and definitely interactive.  The talk inspired powerful personal meditations by each man, and also a follow-up discussion that helped deepen our understanding, and hopefully, our devotion to Mary.  Great job!"
- Damian Wargo, Co-Founder and Director of Operations of The King's Men

"Gary recently spoke at our Legatus of the Lehigh Valley monthly chapter event. I highly recommend Gary to other Legatus Chapter Presidents and Program committees, as well as other Catholic Groups in search of a speaker for a retreat or event. His presentation on 'Pray, Hope, and Don't Worry' was both informative and uplifting. It was great having Gary as our featured guest for the evening."
- David Caccese, Chapter President -Legatus of the Lehigh Valley


Gary and Friends: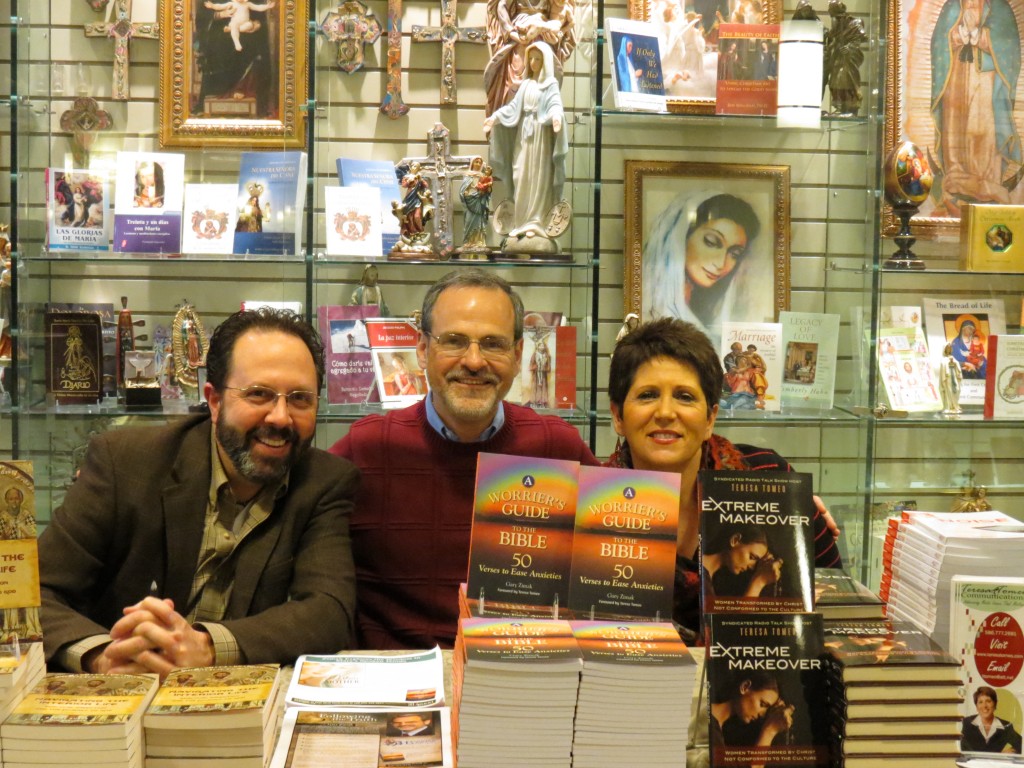 Gary Zimak (center), signs copies of A Worrier's Guide To The Bible along with author Dan Burke (left) and author and radio host Teresa Tomeo (right) at the Basilica of the National Shrine of the Immaculate Conception in Washington, DC.
HELP SUPPORT FOLLOWING THE TRUTH!
(All of your purchases from the following links will help fund Gary's FULL TIME work for the Lord!)